Do you ever just NEED chocolate? There are some people who really could take it or leave it, but I am not one of those people. I NEED chocolate – almost as deeply as I need coffee. The best part about chocolate, is that it can be made into so many delicious things.
One of the most classic and beloved chocolate treats of all has to be the brownie. This staple of school bake sales is by far one of my more favorite indulgences. Unfortunately, the traditional brownie is FAR from healthy – especially if you make them the REALLY good way. I still remember the first time I finally got a hold of my grandmother's brownie recipe. It consisted of two sticks of butter, a package of bakers chocolate, sugar, flour, and (I'm not joking) half a dozen eggs. I nearly died from shock – though I'm sure the insane quantities of fat that were loaded into the decades of brownies I had been consuming were probably helping in that effort as well. It truly was death by chocolate… but what a way to go.
Though no brownie will EVER live up to my grandmother's recipe, this recipe comes close. Now, I know there are those of you out there who couldn't believe that a paleo brownie could even come close to the real thing. But trust me on this, I promise this recipe will not disappoint.
The key to this brownie is the plantains. This recipe calls for two yellow plantains – and you need to pick the right type of plantain to get the texture you want. The texture of the plantain will be reflected in the consistency of the brownie. If you would like fudgier brownies, find a plantain that is a little soft. Don't get one that is black or mushy as this will result in too strong a flavor from the plantain.
Another secret to this treat is that instead of using butter/ ghee/ palm shortening as the fat in this recipe – I use cocoa butter
. Cocoa butter is a great addition to these brownies. Not only does it help keep the brownie moist, but it heightens the chocolate flavor. Give these brownies a try, and I promise you that you won't regret it.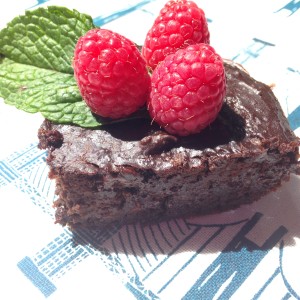 Plantain Paleo Brownies
2015-04-26 15:15:54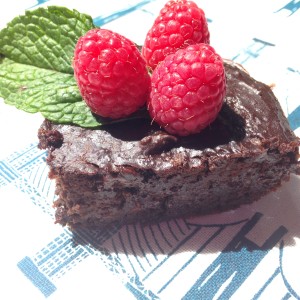 Rich and chocolatey brownie you won't believe is paleo!
Ingredients
2 eggs
2 yellow plantains
1/3 cup cocoa powder (plus some for dusting the pan)
1/3 cup melted cocoa butter (you can substitute melted palm shortening if you like)
1/4 cup maple syrup
2 teaspoons vanilla extract
1 teaspoon baking soda
1 cup enjoy life mini chocolate chips (or dairy free chocolate chip of your choice)
Palm shortening to grease the pan
Instructions
Preheat the oven to 350 degrees.
Combine all ingredients but the chocolate chips in a blender, and puree until smooth. Add in the chocolate chips and pulse a few times until the chips are distributed in the batter.
Grease a brownie pan with palm shortening and lightly dust with some cocoa powder (this will prevent the brownies from sticking to the pan). Pour the batter into the pan. Bake for 30-35 minutes, until brownie is a bit "bouncy" to the touch and a toothpick comes out clean.
Let cool.
Notes
Serve topped with fresh berries.
Store in airtight container for up to 5 days (if they last that long).
Urban Cavewoman http://urbancavewoman.com/