I've spent a lot of time this week thinking about the Yucca. I never paid much attention to this odd looking root before, but suddenly, it seems to be appearing everywhere. I have already tried my hand at making yucca fries (recipe coming soon), and wanted to see what else this versatile starch could do.
For those of you who don't know what yucca is (you are not alone) it is the root of the Cassava plant. Considered in the tuber family, this root is definitely a high source of carbohydrate (so should be eating in small quantities for those of you on a low carb diet – or doing a Whole 30). It can be used as a substitute for white potatoes when making french fries, and when powdered makes an excellent flour substitute. Though it may be a high-carb ingredient, this root also contains a significant amount of Vitamin C, Calcium, and various B-rich nutrients (Thiamine, Riboflavin and Niacin). This means that even if you are going to be splurging on a carbohydrate, you will still be getting some essential vitamins and nutrients needed for important things like concentration and cardiovascular health. More popularly, the yucca root is also the basis for tapioca!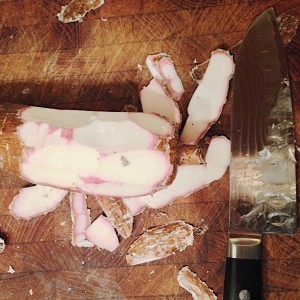 Preparing the yucca root is not a simple process. The skin is not edible, and actually contains small amounts of arsenic. If you want to prepare the root for consumption, you need to peel away the root's waxy skin and boil it before doing anything else. Though it does take effort, once you have done this a few times, it can be a fairly quick and simple process. If you really don't want to have to deal with that part of the process, you can also purchase canned yucca in the South American food section of some grocery stores, and occasionally can find it in the frozen food section.
Given how time consuming the root can be to prepare, I was surprised to hear more and more people talking about this strange looking tuber. I started doing some googling, and found some amazing recipes using yucca – but the one that caught my eye was a recipe for Pan de Yucca. Pan de Yucca is a Columbian cheese bread, and naturally gluten free. I read several recipes, and finally decided I wanted to make a paleo version of this bread, and use it as the basis for a paleo pizza crust. Obviously, using cheese wasn't an option, so I substituted in nutritional yeast. It took a few attempts (a.k.a. epic failures) but once I got used to working with the yucca as a dough, the end result was delicious.
How to prepare Yucca (for almost any recipe):
Cut and peel the Yucca root. To do this you will need a . I tried this a few times, and for me it worked best to cut the Yucca up into small sections first, and then remove the waxy skin.
Quarter the "peeled" yucca pieces and place them in boiling water for 20 minutes (or until fork tender).
Remove the fiberous "core" from the Yucca. You will notice that there is a stringy and dense tendril that runs through the yucca. This core, though edible, is very tough, and is best removed from the yucca to make it more easily eaten. If you got a particularly large yucca, you may notice that this core has become more like a bamboo reed than a string. It is most easily identified after the yucca has been boiled. Once removed- your yucca is ready!
For this recipe, I needed to turn the boiled yucca into a dough. Full instructions are below, but I wanted to highlight that this dough when first prepared will basically be glue, and almost completely unworkable. Don't worry, this is completely normal. Once the yucca "paste" has had the chance to cool, you will be able to work this into a much more manageable dough with a few simple steps.
After the dough has been prepared, you can top this pizza with whatever toppings suite your fancy! I topped mine with fresh chopped basil, caramelized onions, cherry tomatoes and pieces of prosciutto. It was delicious!!! The crust wasn't a typical crust (still had a potato-y texture), but it held up beautifully under the weight of all the toppings with a crunchy outer layer and fluffy interior. I can't wait to try this with other topping combinations.
Thin and crispy crust - perfect for satisfying that pizza craving!
Ingredients
1 large yucca root
4-5 tablespoons (plus more for dusting)
3 tablespoons
1 tablespoon chopped chives (optional)
(for greasing hands and pan)
2 tablespoons Extra Virgin Olive Oil
Instructions
Cut your yucca into manageable "chunks" (I typically cut the root into 4-5 sections). Once you have these pieces cut, use your knife to peel off the thick waxy skin, exposing the white flesh beneath. You can quarter the yucca "disks" into wedges at this point, to help them cook faster, but that is optional.
Boil the yucca in a large pot for about 20 minutes, or until fork tender.
Once you have drained the yucca and set it on a cutting board, remove and discard the fibrous core. Add the boiled yucca to your blender with the chopped chives and . Puree until smooth (this shouldn't take long).
Line a large bowl or casserole dish with clear plastic wrap. Using a spatula, scoop out the yucca mixture into the plastic wrap lined bowl. The yucca puree will be VERY sticky (almost like glue). If you are having trouble with it sticking to your hands, coat them in a bit of (this will also help moisturize dry hands and cuticles!). Wrap the dough up in the plastic wrap, and place in the refrigerator to cool. You can keep the dough in the fridge for up to one day, or just for 30 minutes.
Once the dough is cooled, remove it from the fridge. Preheat your oven to 375 degrees. Grease your hands again, and remove the dough from the plastic wrap, placing in your large bowl. Adding the one tablespoon at a time, gently knead the dough until it is no longer overly sticky (for me this is normally only 4-5 tablespoons).
Line a large baking sheet with tin foil. Grease the foil with palm shortening, and sprinkle on a light layer of . Put the dough on the foil, and (using your hands or a rolling pin) flatten the dough out until it is about 1/4 inch in thickness.
Add your pizza toppings. Using a pastry brush (or your fingers), lightly grease the edges of the pizza with the olive oil. This will let your outer crust look less dry and get a nicer golden brown. Any excess oil at the end can be drizzled over the rest of the pizza.
Cook Pizza at 375 for 50-60 minutes. The crust will be a light golden brown and feel firm on the outside with a slight softness in the center.
Cut and serve hot!
http://urbancavewoman.com/entrees/yucca-paleo-pizza-crust/