If you grew up in New England, you know the importance of a good clam chowder. There is nothing that says home to me like a nice hot bowl of this yummy goodness. Unfortunately, indulging in a good cup of "chowda" these days, would put me out of commission for the better part of a week.
A few weeks ago, my husband and I went away to a family wedding in Maine, and my craving for New England Clam Chowder reared it's ugly head again. One evening, while looking almost too intently at the couple dining at the table next to us enjoy their cups of chowder, my husband challenged me to try and make a Paleo version. At first I thought he was crazy – there was no way I could replicate this without cream- but after thinking about it for a few minutes, I came up with an idea. After a few tweaks, I am finally ready to unveil the result.
The biggest challenge to this chowder, was replacing the cream. In my "pre-paleo" days, one of my favorite tricks to replace cream in a soup, was to throw in a small skinned "creamer potato" into the broth and puree it. Obviously, white potato's are a "no-no", but parsnips and cauliflower…. now we were talking. The next thing I needed to address was the broth. Normally, I create my clam broth by steaming clams in white wine (trust me, this is amazing). While the wine does add an amazing richness to chowder, using water works just as well for rendering a good broth, as long as I added that richness of flavor in another way. I chose to do this by adding a nice thick-cut bacon to the chowder (because everything is better with bacon ) and chopped leeks.
The key to a really hearty and good chowder is the clams. I chose to use both little neck and cherry stone clams. The cherry stone clams are nice and meaty, and will give you a lot of good broth. The little neck clams are smaller, but also add a good texture. I rounded out the rest of the chowder with the usual suspects: carrots, celery, and (of course) sweet potato. In a perfect world, I would use purple sweet potato – but alas I couldn't find any.
While this isn't exactly like the classic – it does hit the spot. I don't miss the cream at all – and if anything, the flavor of the clams is able to come through even more without it. The other great benefit to this version of chowder, is that it is much lighter – and thus can be enjoyed on the hottest of summer days as well as on a nice fall evening. You can bet this is making it into the regular rotation at my house!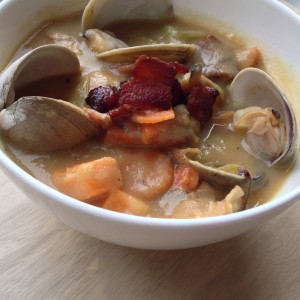 Whole 30 New England Clam Chowder
2015-07-12 17:18:24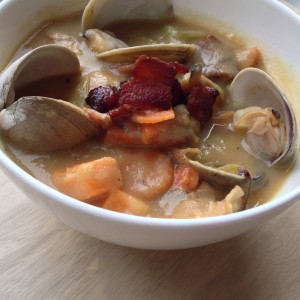 Serves 4
A lighter, dairy and carb free version of the New England classic.
Ingredients
2 dozen Cherry Stone Clams
2 dozen Little Neck Clams
2 cups of water
2 Leeks, thinly sliced (only use the light portion of the leek, discard the dark green tops)
6 slices thick cut smoked bacon (cut into squares)
2 medium carrots, peeled and diced
3 stalks of celery, diced
2 medium parsnips, peeled and diced
1 cup cauliflower florets
1 medium sweet potato, peeled and diced into small bite-sized cubes
3 sprigs of fresh thyme
2 tsp hot sauce (optional)
Pepper
Instructions
Clean your clams. Make sure you have washed them and removed all of the sand that may still be on the shells. Place the clams and 2 cups of water in a large soup pot or dutch oven. Cover and turn heat on high.
Cook for 7 minutes, and remove the top. Take any of the clams that have opened out and set aside in a bowl. Let broth continue to cook for another 5 minutes until all of the clams are open. Set aside all of the open clams to cool, discarding any that did not open.
Strain the clam broth through a cloth coffee filter (or coffee filter in a mesh strainer) into a medium stock pot. Add parsnips and cauliflower to the clam broth, cover and simmer over medium/ low heat.
In the large stock pot that you used to render the broth, place the bacon over a medium heat. Cook bacon until browned (careful not to burn), and remove from the stock pot. Set aside the bacon pieces. Keep about 3 tbsp of the bacon fat in the pot, and add the leeks, cooking for 2-3 minutes over medium heat (until fragrant). Add in the sweet potato, carrots, celery and fresh thyme (removing the stalks). Cover and cook, stirring occasionally so that nothing burns, for about another 5 minutes, and then turn the heat to a low simmer.
The parsnips and cauliflower should be fork tender by now simmering in the clam broth. Using an immersion blender, puree the parsnips and clams until completely smooth. Once you have a creamy broth base, add all of that to the pot with the carrots, potato's and celery. Stir well and cover again, keeping over the low heat.
Remove the clams from their shells. For the larger Cherry Stone clams, chop these up into bite sized pieces. Some of these clams may need to be cleaned - so I typically keep a bowl of cold water to wash them in while doing this. The smaller little neck clams do not need to be chopped up. Add the clams to the chowder, followed by adding the bacon and pepper to taste. If you want to add hot sauce, add this now.
Let the chowder continue to simmer while covered for another 5 minutes, and then serve.
Notes
This can be kept in an airtight container in the fridge for up to 4 days.
I used regular sweet potato's, but purple ones would be an excellent choice if they are available.
This recipe does not call for salt as both the clams and the bacon are very salty, however if you find it needs it, add salt.
Urban Cavewoman http://urbancavewoman.com/