Over the holidays, my husband and I had some extra down time together. As a couple, we share a passion for cooking, so we spent almost all of our time in the kitchen. Spending quality time together picking out recipes and cooking is almost as enjoyable as a long beach vacation. Just like any vacation, it is always great to explore and try new things, so our adventures in the kitchen are no different. For this exotic culinary adventure, we decided to tackle a protein that we love to order in restaurants, but have never had the courage (or time) to try at home. Pork belly.
It was difficult for me to find recipes that were easy, and didn't require fancy equipment I didn't own. Luckily, this holiday season we became the proud new owners of an Anova Precision Cooker. The Anova is an easy, at home souse-vide machine, that uses a water bath to perfectly cook your food. It is idiot proof. You can use the Anova for any type of food, but I mostly use it for proteins. I love that this truly is a "set and forget" tool, and the results are always succulent and flavorful. We couldn't think of a more perfect way to try and cook this pork belly.
The result was a perfectly tender and succulent dish, absolutely exploding with flavor.
Choosing your pork belly
While pork belly has become very popular in many hipster gastro-pubs lately, it isn't a common cut of meat you find in most grocery stores. Pork belly is the same cut of meat that bacon comes from, so if your local butcher or meat counter provides thick cut bacon, they will probably have pork belly. It is a very fatty cut of meat, but this is what makes it so tender and flavorful. You will want to ask your butcher for skin on, center cut pork belly.
Our butcher only had the pork belly in one-inch thick strips, but since we were cooking this in the sous-vide, that was fine. Getting this in thick strips, or a solid cut won't make a difference to the cooking method. However, I would warn against going any thinner than the one-inch thickness.
Choosing your flavoring
Pork belly is a very rich meat, so we wanted ensure the marinade we used had something tangy to cut the richness. I was feeling a bit adventurous, and wanted to try something with an Asian flavoring. I also knew I needed some citrus and some heat to cut through the richness. My favorite Sweet and Tangy marinade would be perfect! This marinade does use maple syrup, so if you are doing a Whole 30, you may want to choose something else. However, for our purposes, it was exactly what we were looking for.
Cooking your pork belly
Low and slow is the best advice for cooking pork belly. Roasting and braising will work, and I've seen some recipes call for pressure cookers. While pork belly can add amazing flavor to stews, I personally don't like how much fat it adds. You can obviously strain this off, but that is a lot of work. I prefer the easiest method possible, so sous-vide is right up my alley.
The first thing I did was set up the Anova at 158 degress. Next, I mixed up the marinade. Unfortunately, I had recently done a full pantry clean-out of any herb or spice beyond its expiration date. This meant I was completely without red pepper flakes. My brilliant husband proposed using paprika (which we have 3 bottles of), and it worked like a charm. Once the marinade is done, I placed the pork belly in to a plastic bag, and poured the marinade over it. Make sure the marinade covers all surfaces of the pork, so really mix it around in the bag. We don't have a vacuum sealer, so we use the water immersion technique to seal our bags. Once the water reached the required temperature, we placed the bag of pork belly in the water and let it cook for 8 hours.
Finishing the pork belly
While the sous-vide is great at cooking and sealing in flavor, most food needs to be "finished" afterwards. We wanted a really crispy caramelized finish on the pork belly to balance how creamy the fatty layers were. Since achieving this texture does require additional cooking, we needed to let the meat cool down before searing it. Remember, the sous-vide already cooked this meat to perfection, so if we put it directly into a hot pan, it could dry out and over cook. We let it cool in the fridge for about 20 minutes, and used that time to prep our veggies and sides.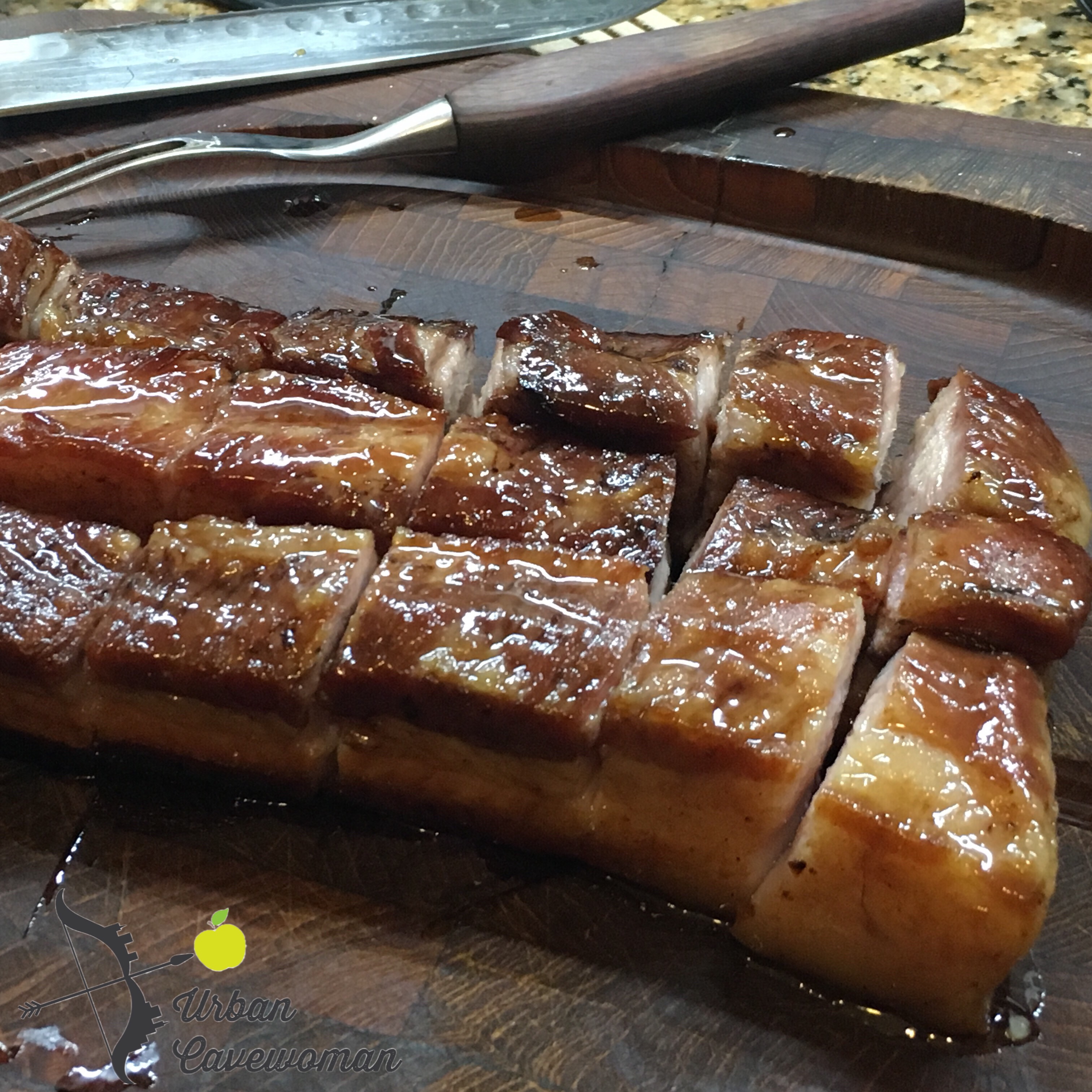 Once the meat was cooled, we got a cast iron skillet very hot, and placed the pork belly in the hot pan, skin side down. The bag will still have a lot of great marinade and juices in there – save this! When the pork belly is in the pan, you need to apply a fair amount of weight to it to get that really great crispy outer layer. A bacon press could work, but we don't have one. My husband McGuyvered a makeshift bacon press by covering the bottom of one of our cast iron pots in tinfoil. It worked like a charm! We let the pork sear on the skin side like this for about 5 minutes, then flipped it and repeated. For the sides of the meat, we didn't use our make shift press, but just lightly seared those for about 2 minutes each side.
Remove from heat and set on a cutting board when the belly is nicely caramelized on top and bottom, with nice cook on the sides. At this point, deglaze your pan with the remaining juices from the bag. Let the liquid simmer over medium, and use a wooden spoon to scrape up all the flavorful bits. You can add additional broth if you need to. Remove the pan from heat, and strain the liquid into a gravy boat or bowl.
Serving suggestions and finished product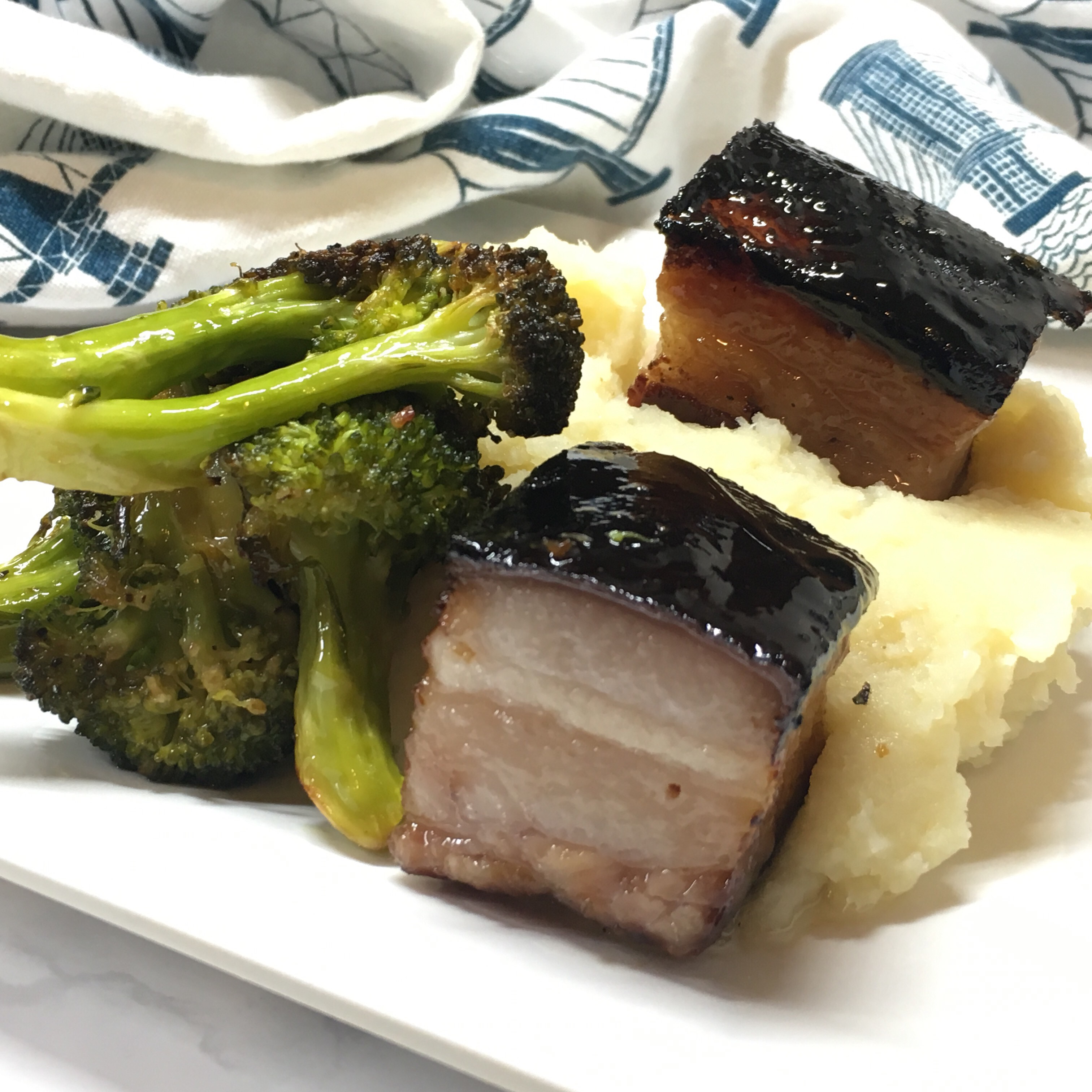 The beauty of a well cooked pork belly are the layers of meat, fat, and skin. We wanted our meal to not only taste delicious, but to be visually appealing, so we decided to slice our pork belly into 1 inch x in inch pieces. Pork belly is pretty heavy, given how fatty and rich it is. As a result, we didn't really want to pair it with anything else that was heavy. Instead of baking our standard sweet potato, we opted for a light and fluffy cauliflower and parsnip puree. This had the added benefit of visually being very appealing next to the pork belly. For added color and nutrients, we roasted up some broccoli with olive oil a garlic. We served it with the glaze from the pan drizzled on top, and thought we had died and gone to heaven.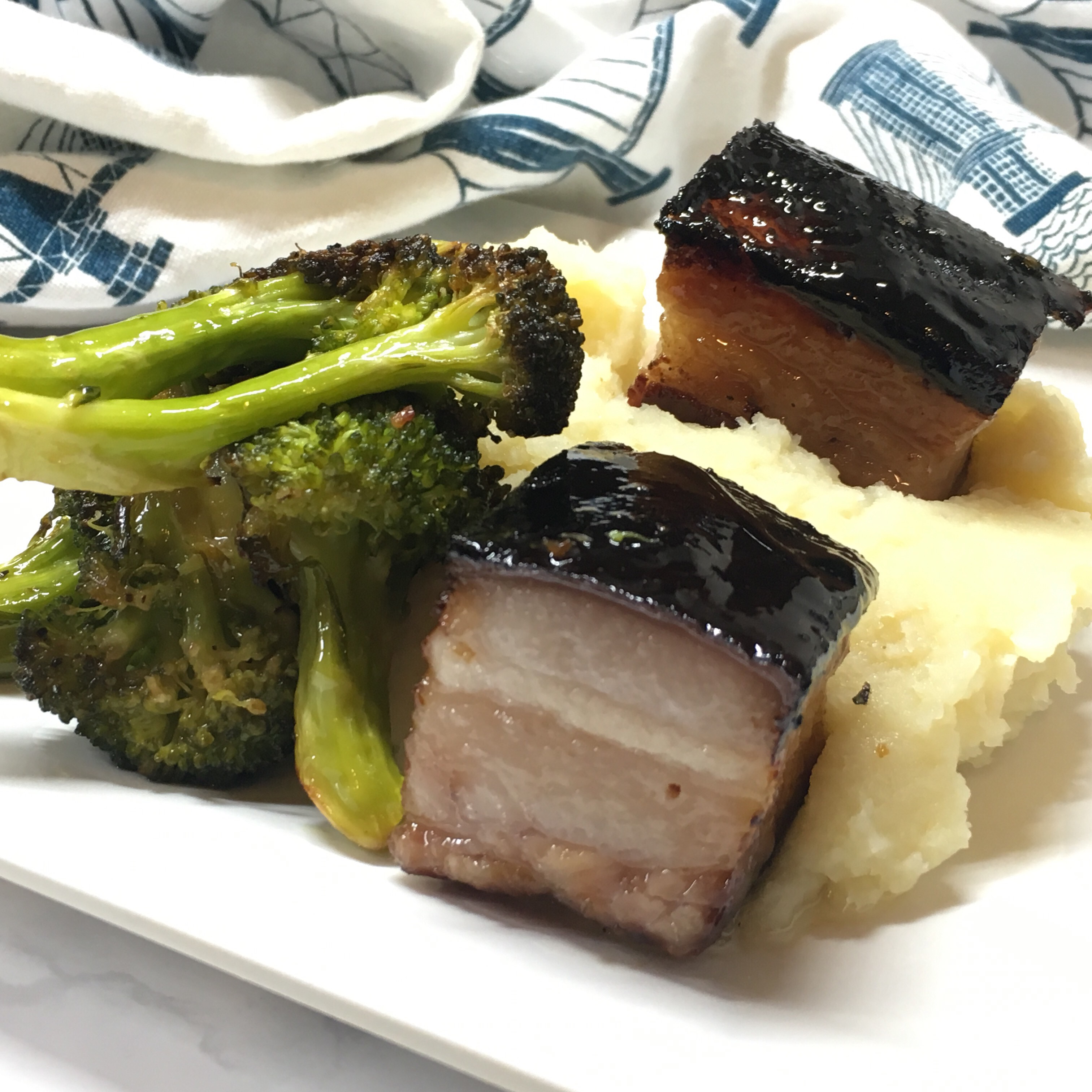 Sous-Vide Sweet and Tangy Pork Belly
2017-01-13 13:10:57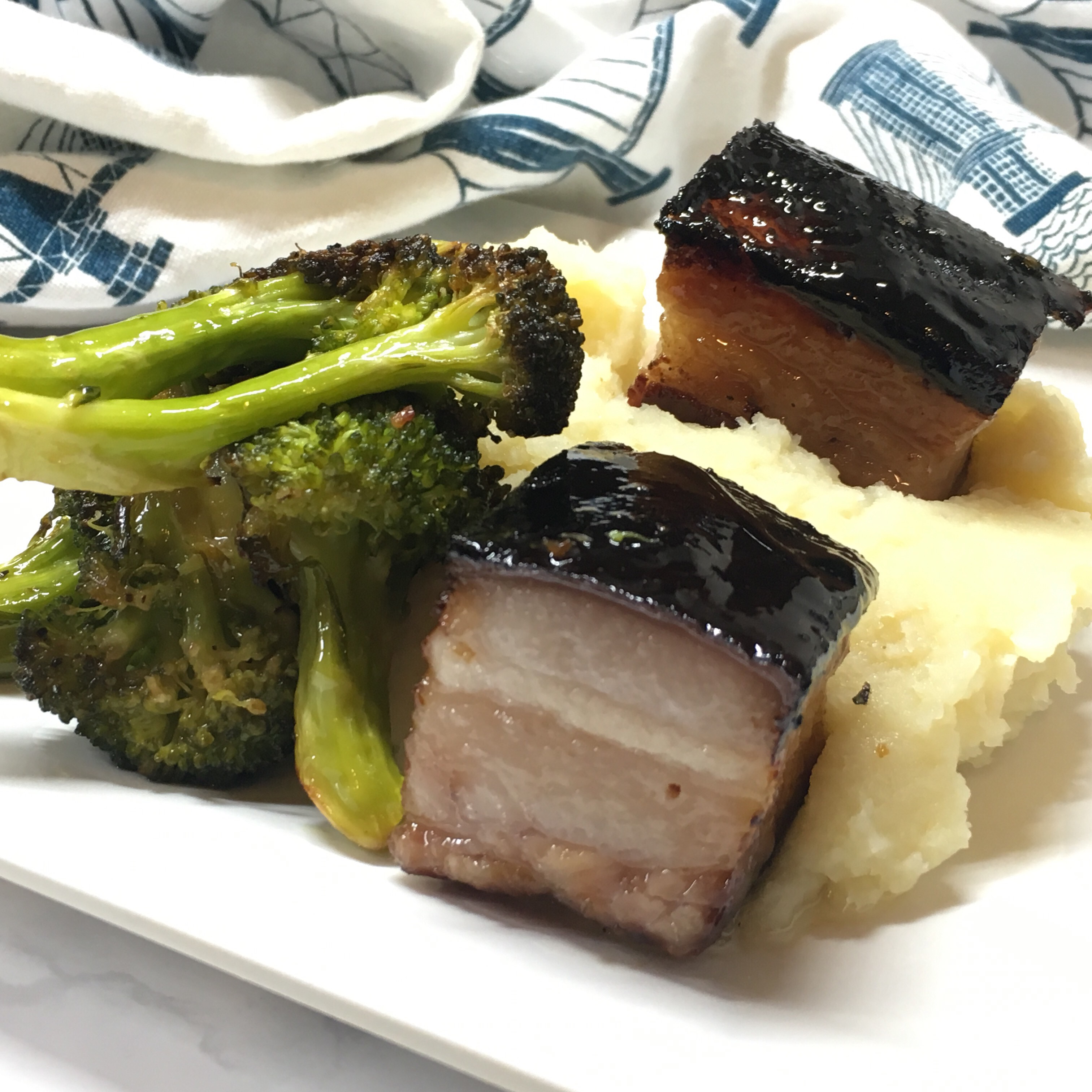 Serves 2
A deliciously rich cut of meat, cooked with a sweet and tangy Asian inspired marinade. Perfect when paired with cauliflower parsnip puree.
Ingredients
2 lbs. pork belly
1/3 cup fish sauce
1 tsp minced garlic (or one large clove minced)
1/2 tsp paprika
3 tbsp maple syrup
Juice from 1/2 lime
1/2 cup kosher salt
For the Marinade
Combine fish sauce, garlic, paprika, maple syrup and lime juice together.
For the Pork Belly
Set your Anova Precision Cooker to 158 degrees Fahrenheit.
While the water is heating, take out your pork belly. Using the kosher salt, exfoliate the outer layer of pork belly, focusing on the skin side. Use the salt as an abrasive to clean up any remaining debris or film that is on the meat. Rinse the salt off thoroughly under cool water, and pat dry with a paper towel.
Place the pork belly in a large Ziploc or vacuum seal bag, and pour the marinade over it. Make sure that the marinade completely coats all sides of the pork. Seal bag either using a vacuum sealer, or the water immersion technique (once water has reached 158 degrees).
Place bag with pork in the water bath when it has reached 158 degrees. Set timer to cook the pork for 8 hours.
When pork is done, remove from heat and let cool in the fridge. Pork can cool for 20 minutes, up to a full day.
Once pork has cooled, heat a cast iron skillet over high heat. When pan is very hot, remove pork from bag, reserving the juices. Place pork (skin side down) in the pan. Weigh the pork down with a bacon press, or pan/ pot wrapped in tin foil. Sear for 5 minutes (until skin is nicely caramelized and crispy). Flip and repeat on the belly side.
Lightly sear the sides of the pork for 2 minutes on each side, and then remove from pan and set aside on a cutting board. Reduce heat to medium, and add the reserved juices to the pan. Use a wooden spoon to scrape up the flavorful bits from the bottom of the pan. Let the liquid come to a full simmer, and reduce heat to low for an other 2 minutes. Strain liquid into gravy boat or bowl.
Slice the cooked pork belly into 1 inch pieces, serve hot and dressed with the pan sauce.
Notes
You can sous-vide the pork up to a day ahead of when you plan to serve it. Simply remove from water after 8 hours, and chill in fridge until ready to proceed.
If you do not have enough liquid for the sauce, you can add broth if needed. We had under a cup of liquid total, but that was more than enough for the dish.
This is best paired with a light and fluffy cauliflower and parsnip puree.
Urban Cavewoman http://urbancavewoman.com/