January is notoriously the month of healthy eating. Many of us are starting out on a cleanse, testing out a new diet plan, or joining a new gym. For me, the new year is a time to re-boot, but not a time of deprivation. If I am going to be healthy, and find balance, that has to include a few treats or I will fail. One of the things I've found very helpful, is cooking healthy "cheats" to keep on hand.
Normally, I will cook a batch of Plantain Brownies to cut up and freeze in individual "bites". However, I am trying to reduce my egg intake these days, so wanted to try out something different. When a post came up in my Facebook feed claiming "The World's Easiest Cookies Just Happen to Be Paleo, Vegan, and Gluten Free" – well I had to try them!
The original recipe calls for Almond flour, so I knew I'd need to do a bit a of tweaking. My first attempt followed the original recipe exactly, but substituted in Pumpkin Seed Meal for the Almond flour. The cookies were okay, but pumpkin seeds have a bit more of a bitter edge than Almonds, and the texture was a bit drier and more crumbly than I would have liked. I also really wanted chocolate. To me, it isn't really worth "cheating" unless it is for chocolate. After a few experiements and changes, I came up with a really satisfying and healthy treat to help me stay on track.
Healthy Cookie?
Yes, a healthy cookie is a bit of an oxymoron. These really are a "healthier" cookie, as opposed to a healthy treat. However, keeping some chocolate on hand that isn't as bad as other things can help satiate your cravings, without completely "falling off the wagon". Even though these shouldn't become a constant part of a diet or weight loss plan, there are some good benefits in these little cookies.
Pumpkin seeds are really an amazing food source. Like most nuts and seeds, pumpkin seeds are high in Magnesium, Zinc and Omega-3's. Magnesium is an important mineral for building bone strength, lowering blood pressure, increasing cardiac health, and a host of other functions. Zinc is most commonly known for it's ability to boost your immune system, but it has also been found helpful in combating chronic fatigue and depression.
There are some unique benefits that pumpkin seeds a great item to integrate into your diet. First, they contain a small amount of Tryptophan, and may help with sleep. Second, Pumpkin seeds have also been shown to have an anti-inflammatory effect. Finally, numerous studies are indicating there are a myriad of other benefits we are only just learning about. For example, there are indicators that pumpkin seeds can promote better prostate heath, prevent diabetes, and ease menopause symptoms. So maybe these cookies ARE healthy after all?
The Ingredients
Besides the Pumpkin Seed Flour, most of the ingredients are items you probably already have in your pantry! I like to use a good unsweetened cocoa powder, whatever coffee is on hand, and Maple Syrup we bought (in bulk) from a farmers market a few months back. A few of the ingredients (baking powder and vanilla extract) are not always paleo, so if you want to learn how to make your own versions, check out the Paleo Plan website.
Choosing the right Pumpkin Seed Flour can be difficult, as there aren't many options out there. I've previously used Gerbs Allergen Free Pumpkin Seed Meal, and loved it. However, I decided to try a similar product made by Sincerely Nuts that was almost half the price. These two flours are not made equal. Gerbs has a fantastic texture (similar to Almond Flour), whereas the Sincerely Nuts product is very flaky and looks a bit like sawdust. In order to used the Sincerely Nuts flour, I had to run the batter through a blender to get it to bind. Luckily, the taste was perfect, so I really didn't mind the extra step, to save me the extra money.
The final ingredient is the most important (in my opinion). I used about 30z of dark, unsweetened chocolate to drizzle over the final product. Using a really good and flavorful chocolate for the drizzle makes a huge impact. Since it is only a small amount per cookie, I like to use a really good one. For this batch, I used some amazing orange infused dark chocolate, and it was amazing.
What to Do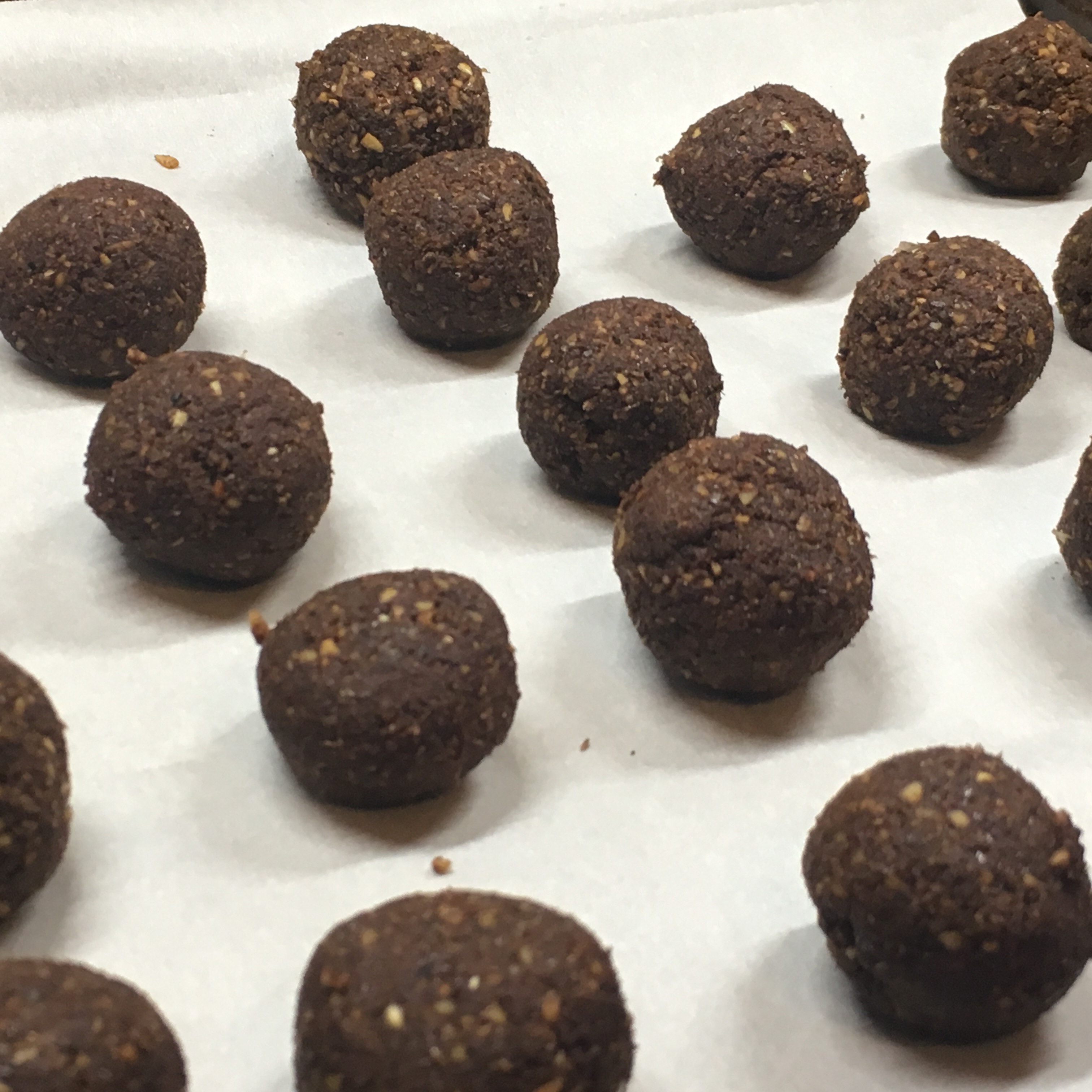 These cookies couldn't be easier to make. I literally threw all of the ingredients (except the chocolate) in a blender, and mixed until smooth. Seriously, how easy is that? Once the dough was done, I lined a cookie sheet with parchment paper, and rolled out the dough into small balls. These are meant to be small "bites" so keep them at about 1/2″ in diameter when you roll them out.
Once all of the dough was rolled and lined up on the baking sheets, I wen through and made an indentation in the center with my thumb. If you ever made those jam filled "thumbprint cookies" as a kid – same thing. Then, I placed the baking sheets in an oven preheated to 350 degrees.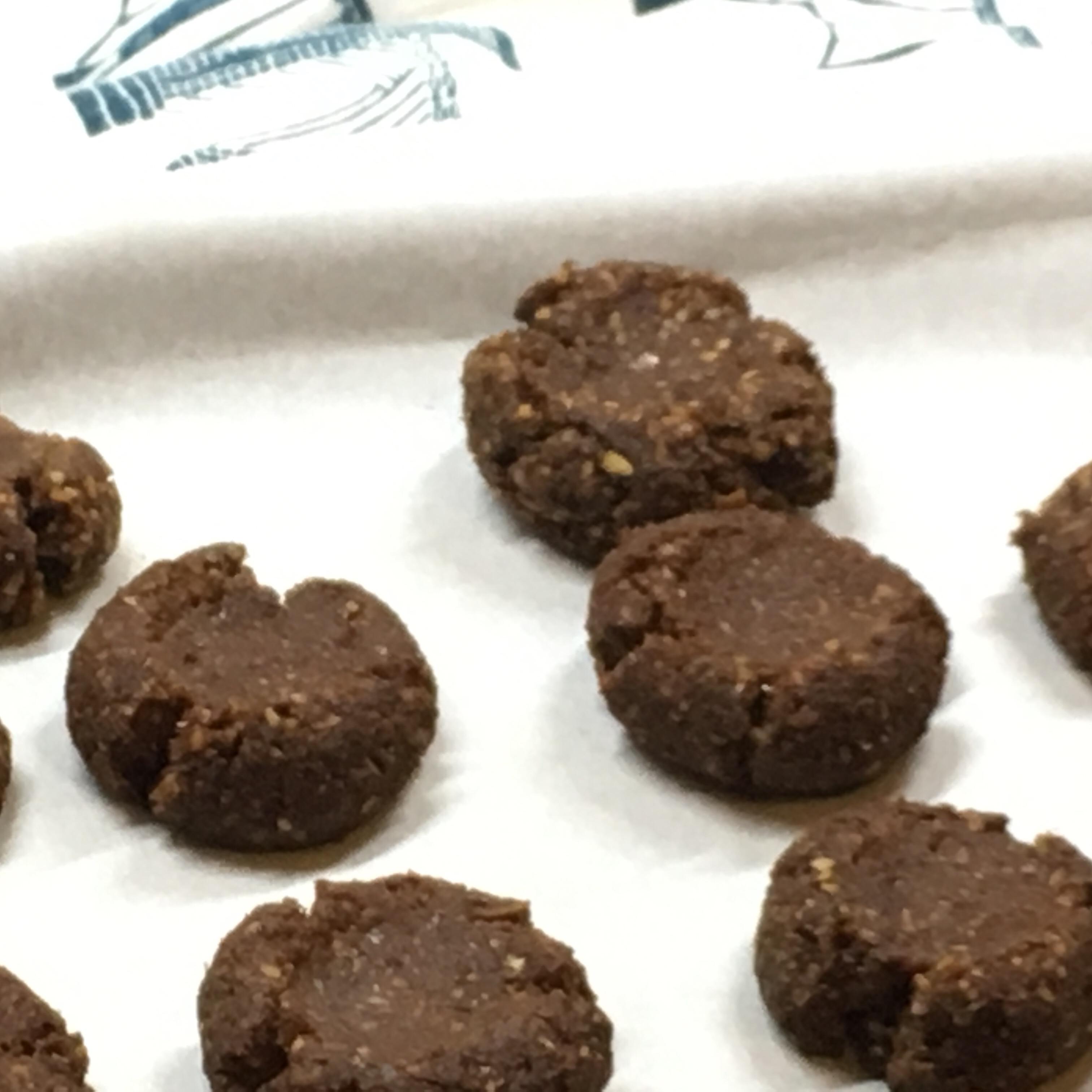 If you are planning on freezing these, cook the bites for 10-12 minutes. If you don't plan on freezing, you can leave them in for 12-15 minutes. Since there isn't egg in this cookie, you don't have to worry about eating raw dough. The heat just helps dry out and bind the batter. If you are freezing the cookies, you will want them a bit more "fudgy", so they don't need as long to cook.
When the cookies are done, set them aside to cool. Melt the reserved chocolate, and place in a Ziploc bag. Make a DIY pastry bag out of the chocolate filled Ziplock, and push all the chocolate into one corner of the bag. Snip the end with scissors, and drizzle the chocolate over the cookies.
Storing and Enjoying
The cookies can be kept in an airtight container for about 5 days, or frozen for up to a month. Keep them in reach for a quick treat, the help keep your resolutions on track!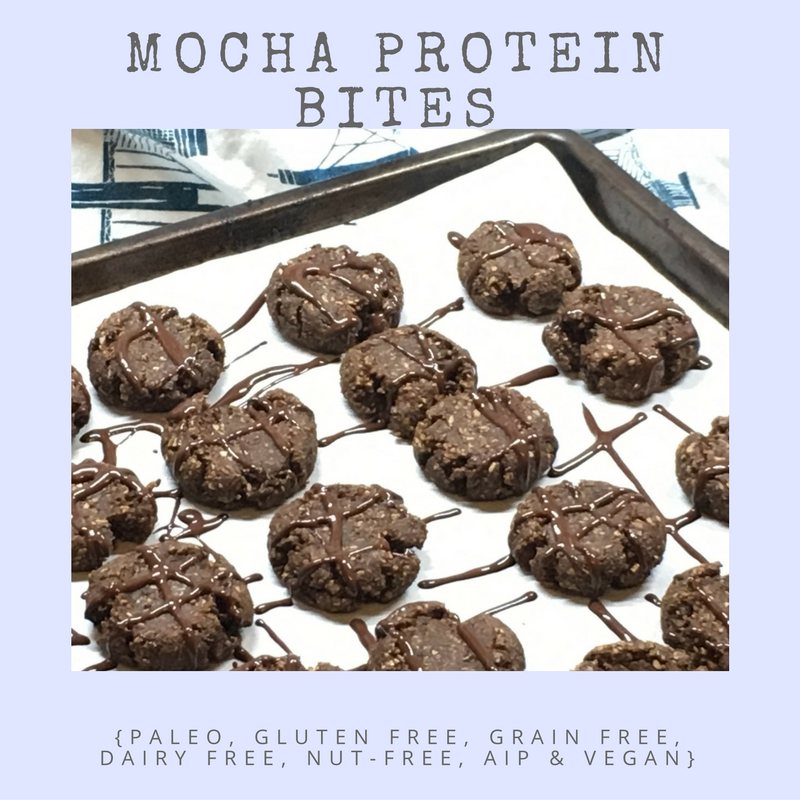 Mocha Protein Bites
2017-01-02 13:57:33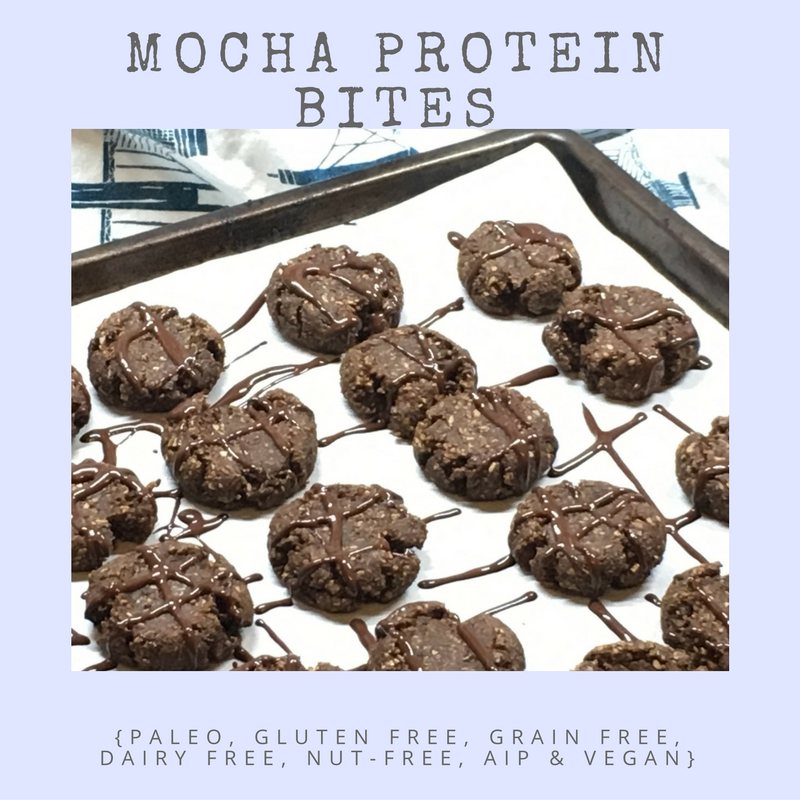 Ingredients
3 cups Pumpkin Seed Flour
1/2 cup coffee
1/2 cup unsweetened cocoa powder
1/2 tsp baking powder
1/4 cup maple syrup (up to 1/2 cup if you like a sweeter cookie)
2 tsp vanilla
3 oz dark chocolate
Instructions
Preheat oven to 350 degrees Fahrenheit, and line a cookie sheet with parchment paper.
Combine all ingredients EXCEPT for the 3 oz of dark chocolate in a blender, and mix until smooth.
Roll out the dough into small balls (no larger than 1/2" in diameter).
Using your thumb, press down in the center of each cookie.
Bake for 10-12 minutes for a chewier cookie (better if you plan on freezing), or 12-15 minutes for a crisper cookie.
Remove cookies from oven. While cookies are cooling, melt the dark chocolate, and place into a Ziploc bag. Push all of the melted chocolate to one corner of the Ziploc, and snip the tip of the bag. Drizzle chocolate onto the cooling cookies.
Notes
Cookies can be stored in a sealed container for up to 5 days, or frozen for up to a month.
Adapted from The Kitchn
Urban Cavewoman http://urbancavewoman.com/