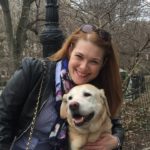 Welcome to The Urban Cavewoman, where I document my journey to find fun new ways create delicious and healthy meals.
In 2013, my husband and I decided it was time to take our health into our own hands, and tried our first Whole30 cleanse. As a couple, we fell in love over our mutual appreciation for great food. For most who knew us, they were shocked that two foodies like us would restrict our diet's so heavily – but we embraced the challenge. As we both have severe food allergies, we were used to having to "work around" restrictions, and felt that the Whole30 options were no different. Once we were able to understand the approach, a whole new culinary world opened to us.
Since then we have embraced the Paleo life-style. We enjoy not only the health benefits of clean eating, but also the heightened flavor and quality of food we consume as a result of eliminating processed foods and preservatives. Contrary to popular belief, a paleo life-style doesn't restrict you to bland broiled protein and steamed veggies, but opens up a whole new world of gourmet options. With food allergies in our family, our approach to paleo requires being a bit more creative than most. We cannot have peanuts, tree-nuts, coconut or gluten. While avoiding peanuts and gluten is already a part of a paleo life-style, tree nuts and coconut are prevalent in many paleo recipes, so we have had to get creative.
We hope that fellow foodies will enjoy the recipes we post here, and that even the non-paleo food lovers will find a few treats here they are excited to try.